In this article, I look at the best building information modeling (BIM) software. I will focus on the leading software tools in the market that project managers can use at different project stages. I will compare the software based on features and pros and cons.
The software market is inundated with different types of software. This could leave Architect, Engineer, and Construction (AEC) professionals overwhelmed as to which BIM solutions they should go with when executing their construction projects. I have put together this piece to provide some answers.
The article starts by providing general knowledge related to defining building information modeling (BIM) software and its benefits, and the elements that make one tool better than another.
In selecting the software, I will focus on standards associated with open BIM (a standard approach to realizing collaborative designs and building operations that uses open workflows and standards).
The Best BIM Software List
Here is a shortlist of the best BIM software:
I'll define what BIM software is, and then provide overviews of these top solutions below.
What Is Building Information Modeling Software?
BIM software provides a model-based process used for the planning, organization, design, and management of buildings and infrastructures by the construction industry. The software collects data and presents a real-world demonstration of buildings and infrastructure before they are constructed, during construction, and after they are completed.
To accomplish its objectives, BIM software needs to help construction industry professionals complete the various tasks involved in creating a structure. For instance, it needs to facilitate collaboration and communication, provide tools for turning theoretical ideas into concrete ones, and explain what each phase of the project will cost.
The idea of BIM has been around since the '90s. It goes beyond 3D (depth, height, and width) and incorporates 4D (time), 5D (cost), and 6D (as-built drawings).
Project Manager News is reader-supported. We may earn a commission when you click through links on our site — learn more about how we aim to stay transparent.
Overviews Of The 10 Best BIM Software
Here's a brief description of each of the BIM software on my list that explains what it does best, plus screenshots to showcase some of the features.
1. AutoCAD – Best BIM software for automation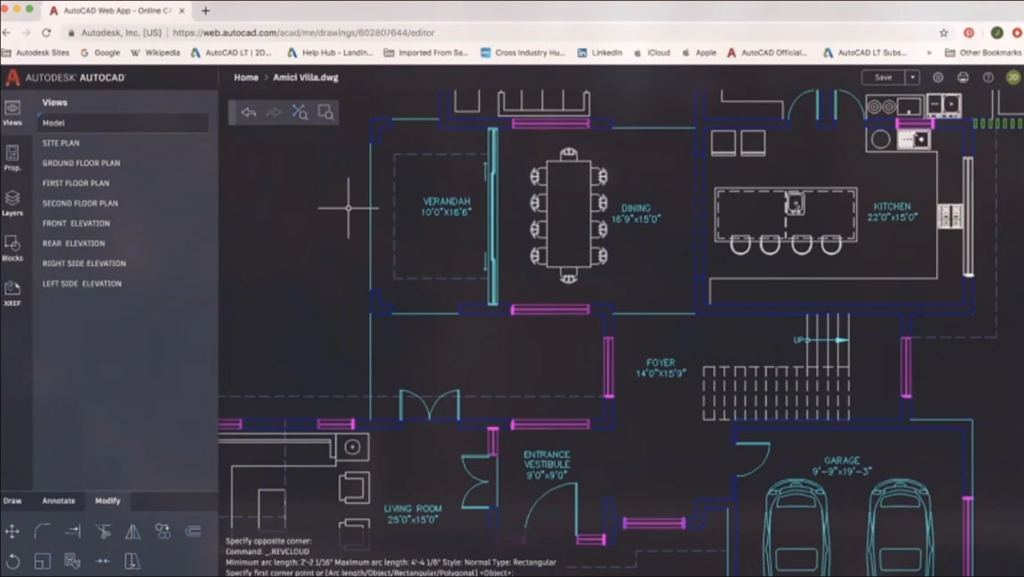 AutoCAD delivers industry-specific features and libraries for the various specializations of members of the project team. The software solution provides access to over 750,000 intelligent objects and parts in its libraries.
AutoCAD speeds up design time by automating everyday actions like inserting doors and bill generation. This software's designers refer to several productivity studies on the different tool sets – architecture, electrical, map 3D, mechanical, MEP, Plant 3D, and Raster Design – within AutoCAD that show an average 63% gain in productivity.
Pricing for AutoCAD starts at $275 per month.
Pros
Saves time
Precision and accuracy
Lots of file formats that can be opened on other software
Great mobile responsiveness
Cons
Long learning curve
Doesn't integrate with MS Excel
Expensive for small firms
2. Navisworks – Best software for simulation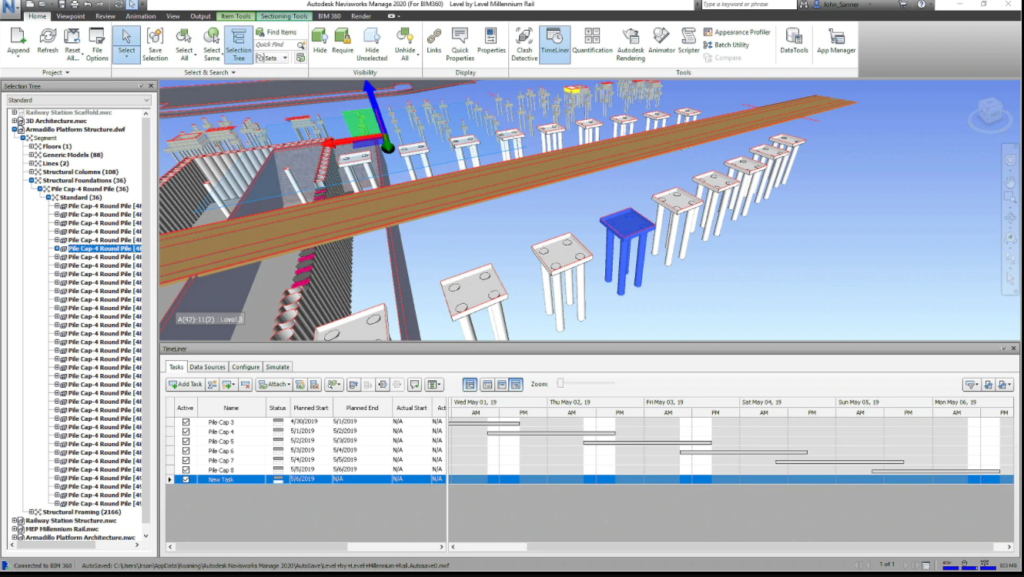 Navisworks is a project review and management software for AEC professionals and teams. It delivers two products: Manage and Stimulate. Navis Manage offers 5D simulation analysis, clash detection, advanced coordination, and simulation tools.
Navisworks analyzes and communicates project details using a feature known as 5D analysis and simulation. The software promises to improve the workflow of the project team via integration with Autodesk BIM 360 Glue.
Navisworks pricing starts at $115 per month.
Pros
Affordable for all firm sizes
Free trial
Access to previous releases/versions
Cons
Mobile devices are not supported
3. Infurnia – Best web-based BIM Design Software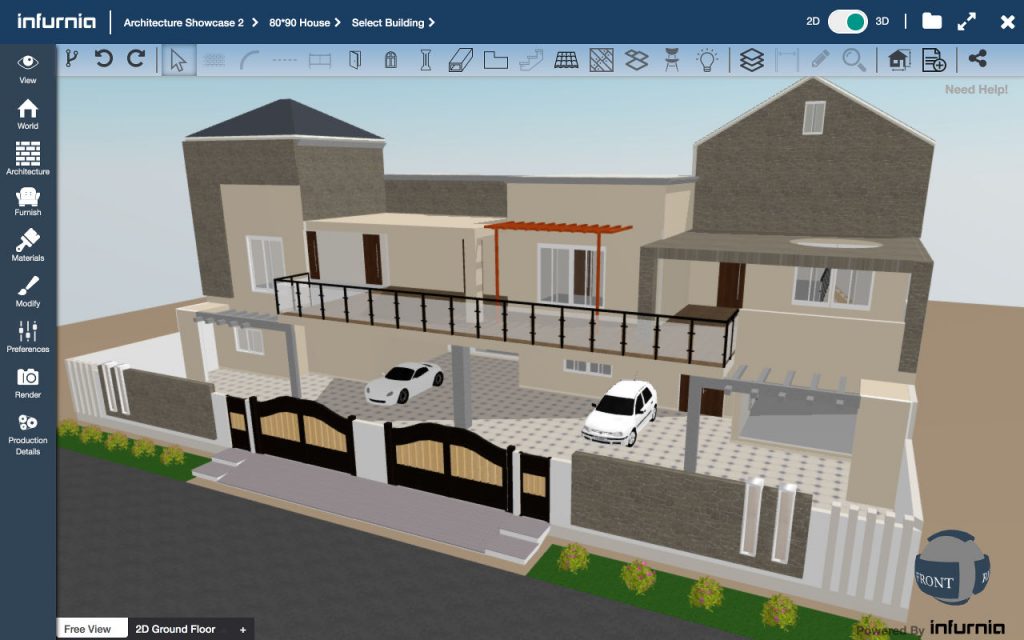 Infurnia is a cloud-native BIM design software that enables you to seamlessly implement BIM while creating your architecture drawings, collaborate easily across functions, and manage your data efficiently. Infurnia is best suited for residential architects looking to add BIM functionality to their designs.
Infurnia is free to use for individual architects while a fully-featured Plan for teams starts at $50/month.
Pros
Free for individual architects, and affordable for teams
Easy to learn with a modern interface
Available across all platforms via a web-browser
Cons
Not as full-featured as software like Revit, especially for larger designs
Requires persistent internet connection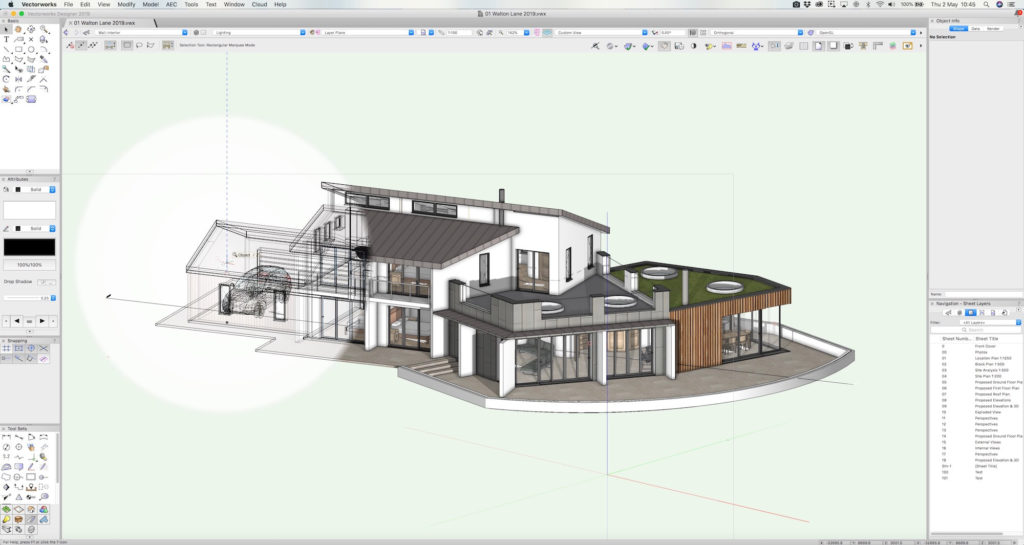 Vectorworks is flexible enough to support a construction project through its entire life cycle: from conceptual design to coordinated BIM models and construction papers. This software solution is loaded with designer-focused tools and features, allowing workflow to enjoy great freedom and flexibility.
Pricing for Vectorworks starts at $210 per month.
Pros
Quick in rendering 3D models
Easy to learn and use
Great auto save and data backup
Cons
Can be unaffordable for smaller firms
Requires high-performance PCs
Lots of glitches on the MacOS version
5. Autodesk Revit – Best software for floor plans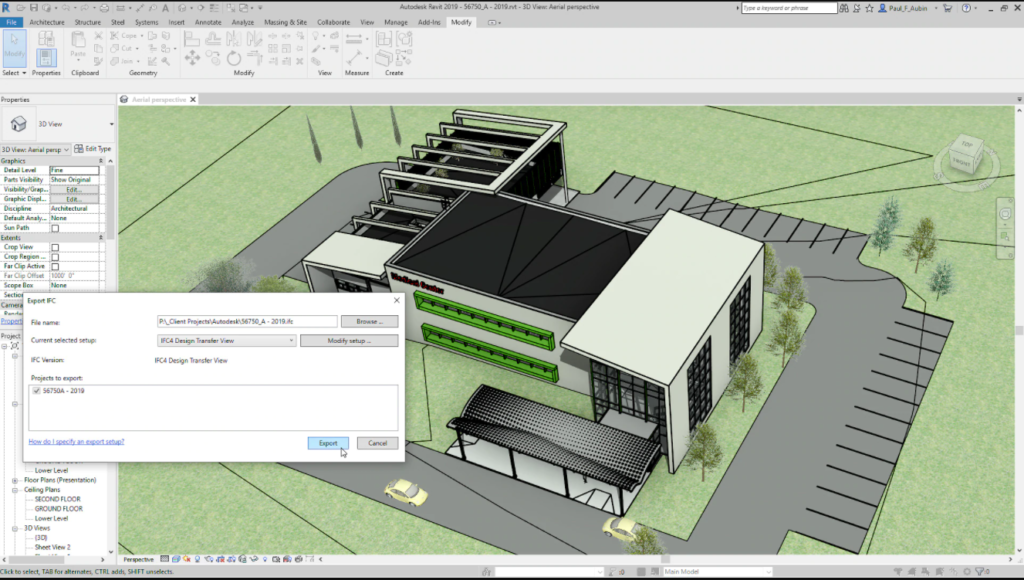 Autodesk's Revit is a BIM solution that helps architecture and construction firms design floor plans. It allows for collaboration with professionals across different disciplines. It can be used for construction management for the entire life cycle of a construction project.
Autodesk Revit pricing starts at $1,850 per year.
Pros
Seamless integration with other Autodesk solutions
Lots of ready-to-use templates
Great for project management
Cons
Uses an annual subscription per user
High-performance PC required
Users must create their own object libraries.
6. Autodesk BIM 360 – Best BIM software for connecting project teams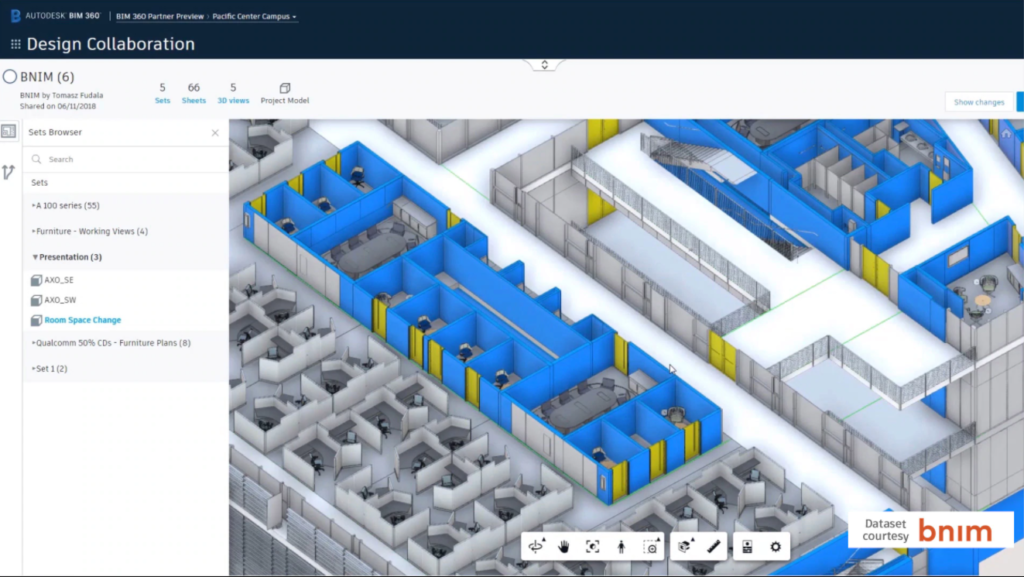 BIM 360 is a unified platform that connects in real-time with project teams, data, and workflow throughout the project's entire life cycle. This leads to informed decision-making.
Pricing for BIM 360 starts at $480 per year.
Pros
Great for project management
Live design updates between project teams
Cons
Interface isn't user-friendly
High learning curve
Unstable CAD file collaboration
7. ALLPLAN – Best all-around building information modeling software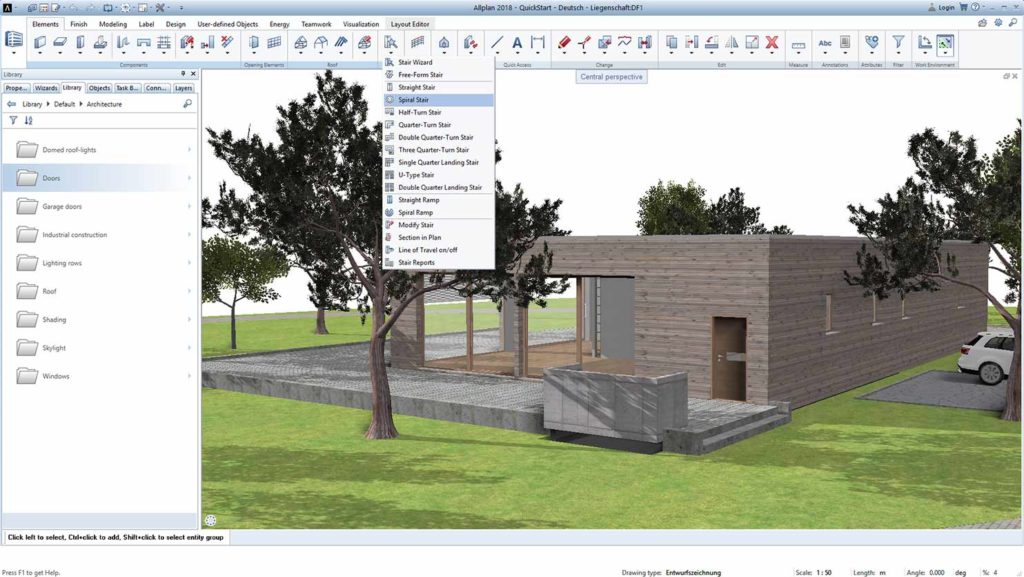 ALLPLAN is a solution for architects that incorporates the whole design process. It provides support from the initial draft presentation to the production of working drawings, detailed layout presentations, and the construction project's cost.
Pricing for ALLPLAN is available upon request.
Pros
Short learning curve
Doesn't require high-performance hardware
Free trial
Cons
Not compatible with Linux OS
Interface is not user-friendly
Detailed automatic drawings sometimes need to be supplemented manually
8. Tekla BIMsight – Best free BIM software solution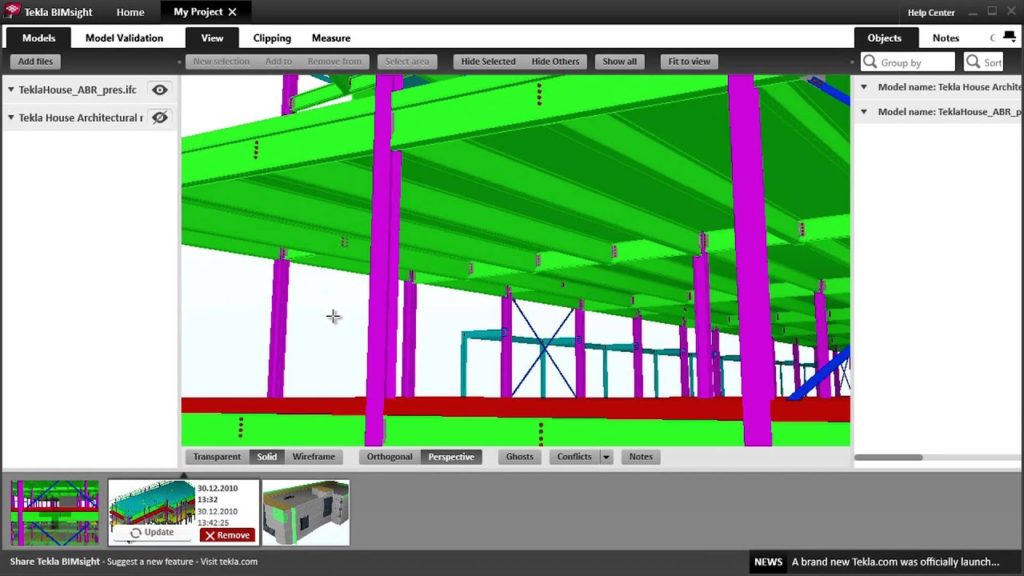 Tekla BIMsight is a free BIM solution that provides an environment for professions to combine 3D models, data and information sharing, resolves conflict, and checks for clashes in the design stages.
Pros
Mobile platform supported
Doesn't require high-performing hardware
Easily predicts costs
Cons
Requires substantial training time
Sectional views of drawing can't be printed.
Not available on Windows
9. Trimble Connect – Best software for connecting team members to appropriate data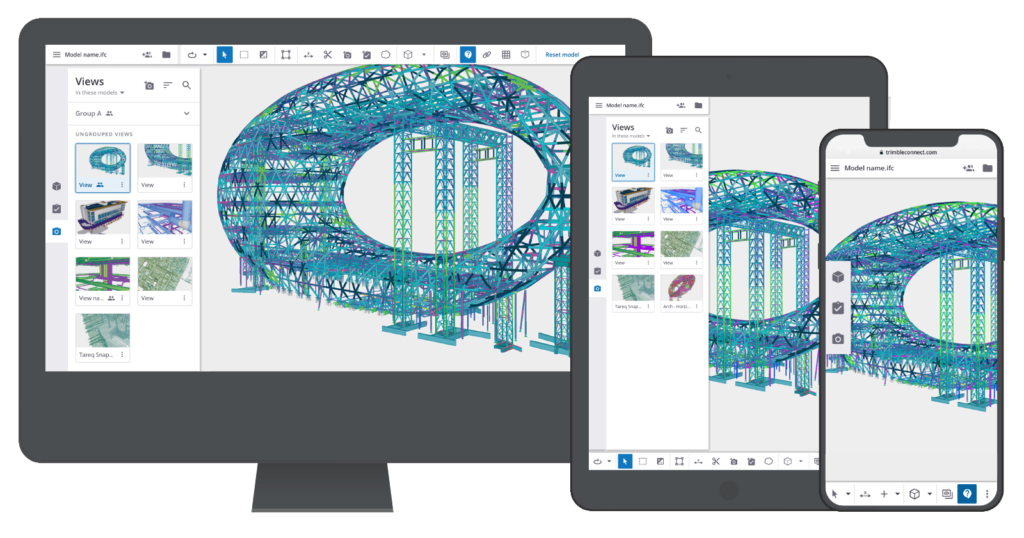 Trimble Connect is a free collaboration tool that promises to enable decision-making and enhances project efficiency by connecting the right team members to the right data at the right time.
Trimble Connect pricing is available upon request.
Pros
Free version available for a personal account
Free trial available for a business account
Cons
Requires a strong internet connection
Interface not user friendly
Doesn't support 2D drawing
10. DataCAD – Best BIM software for beginners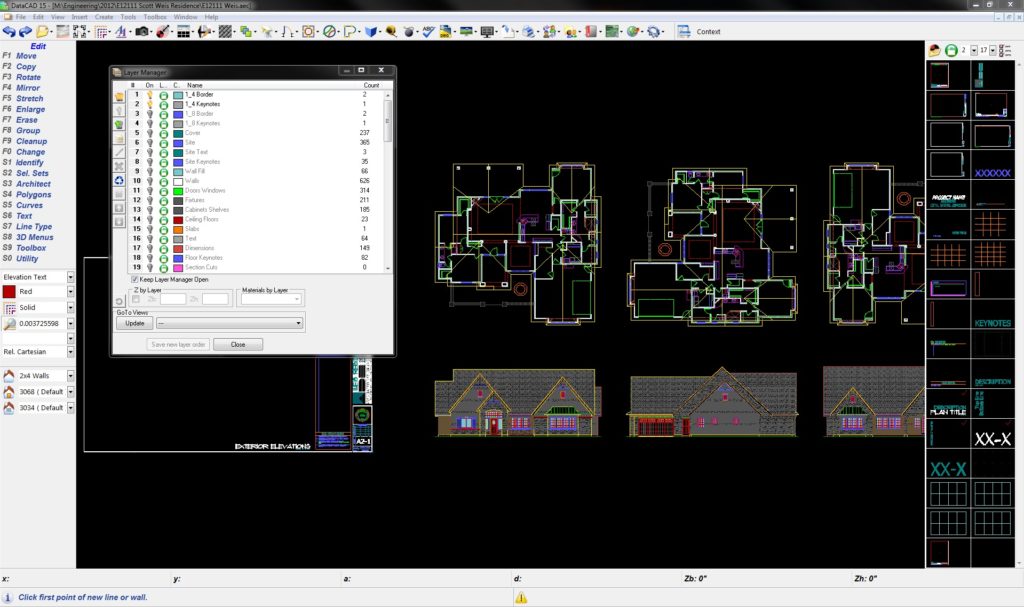 DataCAD is Windows-based CAD software that allows drafting, designing, 3D modeling, and preparation of documents by architects, engineers, and construction professionals. This software solution provides integration with SketchUp's 3D modeling tool for its production drawing and model development. It also offers photorealistic rendering and associative dimensioning.
Pricing for DataCAD starts at $395 per license.
Pros
Easy to learn
Easy to use and intuitive
Very fast 2D creation
Cons
Supports only Microsoft Windows OS
Minimal features
3D capabilities are not great
BIM Software Buyer's Guide
What Are Some Of The Uses Of Building Information Modeling Software?
BIM software can be used throughout the life cycle of a project. It plays a role in the initial phases, including virtual mock-ups, visualization, and design validation. The software also looks at collision detection/avoidance, partial trade co-ordination, scope clarification, and options analysis.
Towards the end of the construction project, BIM software provides tools for marketing presentation. Other elements that the software focuses on include facility operation, walk-throughs and fly-throughs, environmental sustainability, sightline studies, and construction sequencing planning/phasing plans/logistics.
What Are Some Of The Benefits Of BIM Software?
BIM software delivers advantages that can benefit the building project life cycle within the construction process and building performance once it is handed over to those who will manage it. Below, I briefly look at some of BIM software's benefits for architects, structural engineers, project managers, investors, and other players in the real estate sector.
Real-time Data Update: BIM data combines the project team's collaborative work which allows for integrating the automatic change in details and drawings of the building or infrastructure when a vital element changes. This means that modifying one element of the design will also lead to changes in other related elements through parametric modeling (the ability to alter a model's geometry shape whenever a dimension value is changed).
Precise Timeline: The software enables the transmission of work resources, deliverables, materials, and all space requirements within the team. Thus, it provides an information model that helps all team members understand where a project is at any given time.
Geographical Evaluation of the Project Site: BIM software applications provide an analysis of the social and geographic impact the building or the infrastructure has on the construction site. This shows the viability of a given project on a particular site.
Simulation and Visualization: The software provides several simulations that allow designers to visualize all aspects of construction projects – simulations like sunlight in different seasons and other weather conditions. Also, the calculation of the energy required by a building can be done using BIM technology.
Conflict Resolution: The BIM software also automatically detects possible clashes between the different building elements (for example, electric conduits clashing with pipes, beams, etc.) early enough for the users to adjust their parameters. It also ensures the perfect fit of elements manufactured off-site.
Perfect Presentation: The completed and detailed 3D model of the construction project can be presented to consumers for the sale of commercial spaces and get the required regulatory approvals for the construction projects to commence.
Transparency: The open collaboration feature makes all data and information about a project available to all project team members who need it.
Access from Anywhere: The database provided by the software solution, and its cloud capabilities, means the model or data can be accessed from anywhere with any device. Thus, improving efficiency, productivity, and the ability to effect changes to the project details should be present even when away from the office or home computer.
What Inspired Industries To Move Towards BIM Software?
The gradual reduction in working productivity experienced by the construction industry since the '60s led to the development of tools that ended up building BIM software. This reduction meant more labor hours per contract money amount; thus, labor-saving ideas needed to be generated.
The fragmented nature of the construction industry due to traditional methods — project delivery approach, 2D Computer Aided Drafting (CAD) technology, and sizes of firms in the construction industry – led to this decline in labor productivity.
The 2D CAD technology didn't adequately integrate design drawings with cost and schedule. It didn't sufficiently and effectively support collaboration between the project team; hence, the team – architects, engineers, and construction professionals – had to produce their own separate individual CAD for the stakeholders (contractors and owners) when making presentations. Such designs could easily lead to conflicting information.
Within this context, BIM software became a necessity as a method of bringing the different facets of a project together.
BIM Software Comparison Criteria
Below, I list some important details and criteria I use when I search for a building information modeling software solution that is the best fit for a project and firm:
User Interface (UI): Is the software clean and attractive?
Usability and Reliability: Is it easy to learn and master? Does the company or vendor offer good tech support, user support, tutorials, and training for those who want to use the design tool?
Integrations: Is it easy to connect with other structural engineering software, BIM modeling, and BIM tools? Are there any pre-built integrations?
Automation: Does the software improve efficiency through automation?
Value for $: How appropriate is the price for the features, capabilities, and use cases? Is pricing clear, transparent, and flexible? Some 3D BIM software can be used for free.
Building Information Modeling Software Key Features
Here are some of the features you need to check for when looking for the best building information modeling software for your needs. Of course, the specific features that will work with a given project depend on the specifics of that project.
Architectural Modeling: The software needs to help teams go through the incremental steps that lead to the final design. It should also allow them to provide markups that are easy to spot so corrections can be done in different file formats.
Workflow Process Management: Check if the software delivers insights on workflow processes based on collected data and history.
Content and Document Storage: This feature ensures that documents are stored in a retrieval system, allowing those who need to use them to locate them with ease and optimize knowledge transfer.
Data Management and Analytics: The software should assist users in managing and analyzing data in an automated way during the entire process of building design. It also needs to have the capacity to create reports.
Financial and Accounting: Construction projects can easily overshoot their budget if teams have no idea of what different processes cost. Therefore, you want to find software that includes financial and accounting capabilities.
Collaboration: Project teams thrive when there is collaboration; therefore, you want to ensure that the software you select allows teams to work interactively.
Other Building Information Modeling Software Options
SketchUp – Best software for refining concepts
Am I missing anything? If you have tried any of the software listed above or any other construction project management software, share your experiences and recommendations in the comments section. If your preferred architectural design isn't listed, let us know in the comments, as well as why you prefer it.