Building Information Modeling (BIM) has set the new best practices in how data and information are communicated in and out of the construction site, and the benefits of BIM in construction management are stacking up. BIM is slowly becoming an all-important and indispensable tool for the project manager.
To completely take advantage of the opportunities BIM has to offer, let us clearly define what BIM is and why it is important to update your construction company's processes and technology to match this evolving digital solution.
First off, BIM is not just a software solution. Although BIM has been defined by and associated with software solutions for the most part, it is the processes that are enabled by these software solutions that are central to why BIM is worth adopting. Yes, BIM is a technology but more importantly, it is a process. To unlock its full potential, you have to look at BIM beyond the software and understand the process changes that the BIM software can unlock.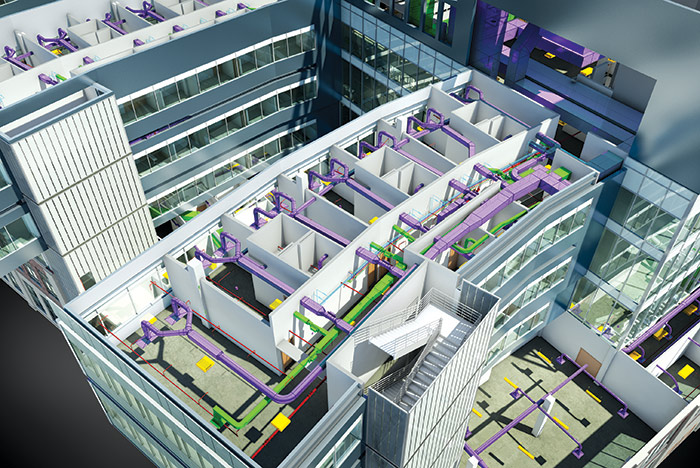 How to get the benefits of BIM? Learn the BIM processes
The nature of BIM processes is always centered around enhancing the communication between the design and construction teams and across the entire construction site. The level of communication, however, depends on the technology being described and implemented.
To understand these processes, we have to look at the context of how they are applied. In the UK, the BIM Level 2 mandate was created for all public construction projects. This means the minimum use of BIM includes requirements and information sharing that allows collaborative use of CAD within a common data environment. Building on top of this is BIM Level 3, which focuses on open data standards for easy data sharing. These open data standards usually refer to single-source-of-truth and database-first design software centred on collaboration. BIM Level 3 is usually what people think of when talking about the benefits of BIM. In mainland EU, Level 3 is synonymous with Integrated BIM.
Key BIM processes
When BIM is implemented within a company and on an industrywide manner with all things considered—proper employee training, considerable IT upgrading, expertise build up, it generates a continuous flow of data and knowledge for the entire life cycle of a building. This produces an extensive value for the contractor and stakeholders. When these rich data are intelligently used, understood and incorporated into collaborative processes, they enable new functionalities along the entire value chain. Some of these functionalities are:
Integrated Project Delivery (IPD)
IPD is a collaborative method of working that proven to be effective in project management. The integration of BIM in an IPD process facilitates the exchange and movement of data among all stakeholders resulting in improved productivity, faster delivery times, cheaper costs, no litigation, and an enjoyable experience for everyone including the owner.
BIM Process Components
The BIM process has numerous technical components that make project management in construction more effective and efficient:
Clash detection – BIM has the ability to spot clashes at an early stage of your project where they should be easier, cheaper and less time consuming to rectify
Constructability assessment – Integrating BIM with 4D CAD simulation models allows the evaluation of designs and constructability value faster and more accurate.
Better analytics – Integrating BIM models of construction projects with building design data and analytics help companies make data-driven decisions to stay efficient and find better solutions like, changing object orientation, changing materials and space, etc.
4D and 5D modeling – Simulation with BIM allows for analytical decision making and assists project managers and executives to predict their decisions' consequences.
Other than its technical construction aspects, BIM is also an effective project management tool. Because BIM creates a one-source platform for all design and construction data, It makes it easy for all construction professionals to contribute to the same project files without creating duplicates. All structural information, materials, assets, building plans, etc. are all stored in a true BIM platform and they are all retrieved from the same source. This means everyone gets updated instantly in real time simplifying administrative tasks and reducing clashes.
The role and challenges of the project manager
Having a true BIM platform also provides the project managers a wealth of data. This means they can see all project components while they access intuitive 3D models instead of technical drawings. With this broader view of the workflows and outputs of all their team members, there is a reduced chance for miscommunications. So now, the main role of the project manager is to integrate all works of the team in an effective manner to meet cost, quality, safety and sustainability goals of the project.
Despite the countless benefits of BIM in project management, there are also a few strategic challenges to deal with, especially when the BIM process is not implemented correctly or preparations for BIM adoption are lacking.
Adopting a BIM approach is the first challenge. Failing to adopt the BIM process results in the complete stop of BIM use or the struggle of successfully finishing a project.
Developing a BIM vision for implementation has to be established.
Leadership is integral in BIM implementation.
Why digital adoption is important
Technology is driving innovations and shaping our world in ways and speeds never imagined before and digital processes are currently having a pivotal effect on construction.
Digitalisation is central to the transformation of the industry (and it's considered one of the major trends shaping the project management industry). It's the first time in construction history that the industry has actually collected large volumes of high-quality data that could be analysed and understood. Big data from construction projects are becoming increasingly connected and algorithms are creating a digital infrastructure. This is generating huge value chains in the industry. The benefits of large-scale BIM won't be realised until all participants along the value chain participate. According to the EU JRC Technical Reports 2017, "without this interlinking effect, there is little benefit for the first movers". That is why digital adoption is important to construction. Big and open BIM is what will entirely shift the entire construction industry and get rid of all the traditional construction industry problems.
7 benefits of BIM in construction management
To summarise, here are the advantages of BIM in project management:
Improved collaboration and better control among project stakeholders
Higher quality projects
Faster project delivery
Cost effectiveness
Reduced waste
Better revenue
New business opportunities
The uptake of BIM has been slow and still varies considerably. Over the past three years, large engineering companies have been using BIM as a standard process while smaller companies have little experience. But it is undeniable how BIM has been transforming project management in the early adopters. In fact, because of BIM uptake, there is a felt increased competitiveness of the European construction sector. Other than that, BIM is transforming the approach to project management just by the benefits it offers. The sector is definitely moving forward with the gains in BIM maturity. BIM is transforming project management now and we are in the middle of a paradigm shift in construction.