Agile project management or simply Agile, has been the buzzword within software development and design teams, for quite some time. This method gives precedence to free-flowing interactions within teams in order to develop top-quality software.
With many development teams having tasted success, thanks to this project management method, it is now being adopted by other industries like manufacturing, healthcare, finance, and the likes. Conventional teams, working within the confines of an office space vouch for the Agile method of development, but what happens when these teams are becoming more distributed across great distances. Using an online collaboration tool certainly makes life easier for remote teams. However, the lack of advanced technology and unreliable applications make Agile development for remote teams a difficult endeavour.
Things are set to change with the launch of HuddleBoard. With the use of intuitive technology, HuddleBoard has emerged as one of the best free online whiteboards for remote collaboration. Let's take a look at how this online whiteboard is silently helping development teams get better and more productive.
Huddleboard's New Features For Remote Agile Project Management
Better Collaboration
Collaboration is the cornerstone of every Agile development process. With teams discussing ideas and strategies that need to be worked upon, effective collaboration makes it possible for each team member to contribute by sharing ideas and working towards a common goal.
With HuddleBoard, remote teams get the advantage of superior technology. An infinite canvas that gets updated in real-time allows remote team members to come together for their daily scrum meetings. Ideas can be easily penned down on the whiteboard using the many available tools like pens or highlighters; each user can set their own custom colour in order to showcase their contributions clearly.
Real-time updation also makes HuddleBoard an excellent tool for creating Kanban boards. Scrum masters can use Stickies to create a detailed Kanban board that gives the team a clear understanding of task priorities. With the many collaboration features that HuddleBoard has, remote development teams will never fall behind schedule and productivity will always soar high.
Enhanced Communication
While professional communication is an essential aspect of any team setup, its importance becomes more evident in the case of remote teams. Imagine the chaos when your remote team gets stuck on a crucial phase of a project and their only source of communication is through a slow email server. HuddleBoard effectively tackles this problem with the help of its advanced communication capabilities.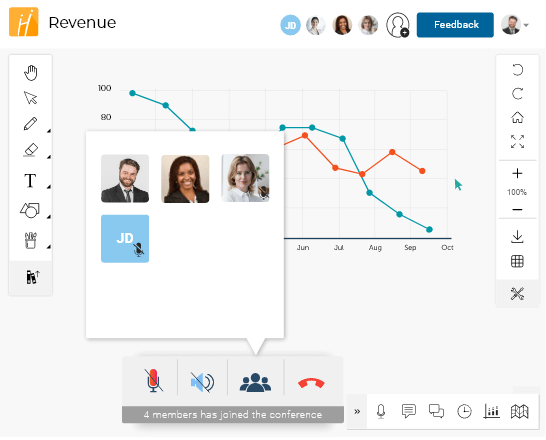 Users might not anticipate such state-of-the-art technology in free online whiteboards, but HuddleBoard surpasses all expectations. Cutting edge Audio & Video Conferencing gives users the ability to connect without delays. The use of intuitive technology enables the application to deliver clear audio and video so that you can communicate with ease and never let your projects stall.
Working on a remote project calls for sharing documents or details from time to time. In cases where critical information needs to be shared immediately, HuddleBoard offers the never-before-seen feature of screen sharing while being on a video call, all at the same time. This brilliant capability gives remote teams the advantage of sharing their screens for seeking guidance or approval in real-time.
Feature Loaded
The problem most remote workers face is the number of applications they have to use for streamlining their daily tasks. From separate communication applications, file sharing service or stand-alone whiteboarding softwares. HuddleBoard, with its technology driven features, offers a single platform for all possible remote usage.
Distributed teams looking to go down the remote Agile project management path, will significantly benefit from HuddleBoard features that are specific to their needs. In cases where online presentations need to be created and conducted, HuddleBoard emerges as one of the best free online whiteboards there is. Customisation abilities let users add images, graphics, videos, vectors, or icons to their presentations. If your team is finding it hard to decide on an issue, conduct a snap poll with HuddleBoard's Polling feature or leave a comment on an ongoing task with the help of easy Annotations. The feature-loaded application certainly makes it easy for remote teams to collaborate effectively.
Conclusion
With the fast pace of development cycles and the never ending search for improved quality, remote Agile teams needed an application that gave them the ability to do more. HuddleBoard is one such platform that offers technologically superior features through which distributed teams can perform to the best of their abilities.