Dark days need a smile – so if you have a project community that you think will enjoy some laughs and smiles, and learn the value of fun in project delivery then Peter Taylor (aka The Lazy Project Manager) is gifting the world an eBook copy of his book on project fun, The Project Manager Who Smiled: The Value of Fun in Projects.

The author states:

"I have presented to, worked with, and trained hundreds of project managers across the world and I always advocate putting the right level of fun into the project work. I have personally seen how it can improve project morale and help keep moving forwards in a positive manner even in challenging times.

"Now whilst there are, quite rightly, lots of books about the serious side of the profession there are none that address the more enjoyable aspects, and so I give you 'The Project Manager Who Smiled'.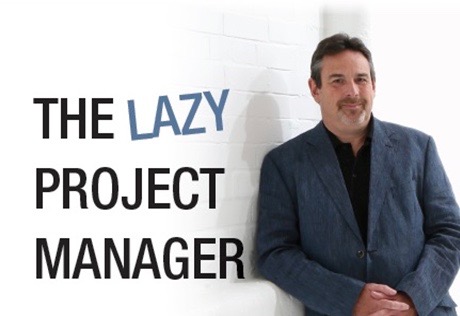 A superb resource of inspiration and entertainment; you'll find this book invaluable in creating successful projects since:
A good laugh not only reduces tension and relieves stress, but also helps to increase team bonding and boost morale.
When you're happy, you are more productive, more creative, more open, more likeable and a better leader.
The book is packed full with ideas and jokes, inspirational thoughts and quotes, suggestions and maxims, anecdotes and all manner of good material that I just know you will steal and use in your own projects – and that is exactly what I want you to do.
Realising that the current crisis the world is facing was leaving many PMs in a 'projectless' state and with time on their hands, Peter stepped in and began sharing his book to anyone interested in having a smile and in learning more about the value of project fun.
His LinkedIn post on this has achieved over 25,000 views to date and now he extends this offer to the digital project management community with a single caveat, "Enjoy and please, do me a favour – send to at least 3 other PMs that you know, you can send it to every PM you know if you like – let's keep the smiles going around the world".
Download the book here:
About the author:
Peter Taylor is an experienced Change and Transformation Specialist who has operated at a global scale within many industries, for organisations ranging from small to enterprise.
He is the author of the number 1 bestselling project management book 'The Lazy Project Manager', along with many other books on Project Management, PMO development, Executive Sponsorship, Transformation Leadership, and Speaking Skills.
And he has delivered over 380 lectures around the world in over 25 countries having been described as 'perhaps the most entertaining and inspiring speaker in the project management world today'.
You can find out more at www.thepmtribe.com and www.thelazyprojectmanager.com