Nearly half of project professionals say projects have been delayed as a result of coronavirus. Three quarters anticipate more disruption in the future.
The APM urges practitioners to restart project work in a controlled manner and highlights action that can be taken to minimise future impacts
5 May 2020 – As the UK prepares to reopen for business, the vast majority of project professionals fear future disruption to their projects as a result of coronavirus, Association for Project Management (APM) can reveal.
Ahead of an expected announcement from the Government this week of measures aimed at restarting the economy, APM has advised on steps that organisations can take to establish a 'new normal' that will ensure projects resume safely and in adherence to government guidelines. These include social distancing, flexible working, alternative methods of communication, and reviewing budgets and priorities to focus on the most essential work.
A survey of project professionals, carried out for APM by research company Censuswide, discovered that 77 percent of respondents anticipate future disruption to projects they are working on as a result of coronavirus.
Only 14 percent say their main project has not been affected by the pandemic. The most commonly cited impacts of the outbreak are that it has caused a project to be delayed (44 percent) and that it has required a project's goals to be reviewed (28 percent).
Project professionals will be at the forefront of planning and delivering successful change in a post-lockdown world. They will need to adopt new ways of working to successfully deliver and manage projects amidst the seismic disruption caused by a coronavirus. APM is urging that the restarting of projects, across all industry sectors, takes place in a managed and controlled manner that adhered to the latest government guidelines.
Project director and APM chair John McGlynn says organisations can help minimise any potential future impacts by embracing change, commenting: "The appetite for businesses to get going again is massive, but remobilising projects is going to require considerable thought and planning as we move to a new normal. Many factors impacting projects will need to be considered such as social distancing measures, staggered start and finish times, adjusted budgets, compressed timelines, and a reassessment of the benefits the project is delivering in this new normal. It is vital that those leading on projects are in a position to adapt to change, with the right skills in place."
As the chartered body for the project profession, APM is committed to developing and promoting the value of project management in order to deliver improved project outcomes for the benefit of society and can provide guidance and support across the profession during these unprecedented times.
David Thomson, APM's head of external affairs, said: "The coronavirus outbreak has led to new ways of working – more agile, collaborative and using by necessity remote working. Many millions have had to learn new skills, and organisations have adapted to change at pace. Restarting projects in a post-pandemic world will demand different behaviors and skills from leaders, including project professionals. We hope that the outcomes will show a clear route map back to those organisations that were well organised and have the vision, skills, and capacity to adapt at speed against immense pressure and deadlines to deliver."
Key findings from APM's survey with Censuswide, which surveyed 1,000 project professionals from across industry sectors, include: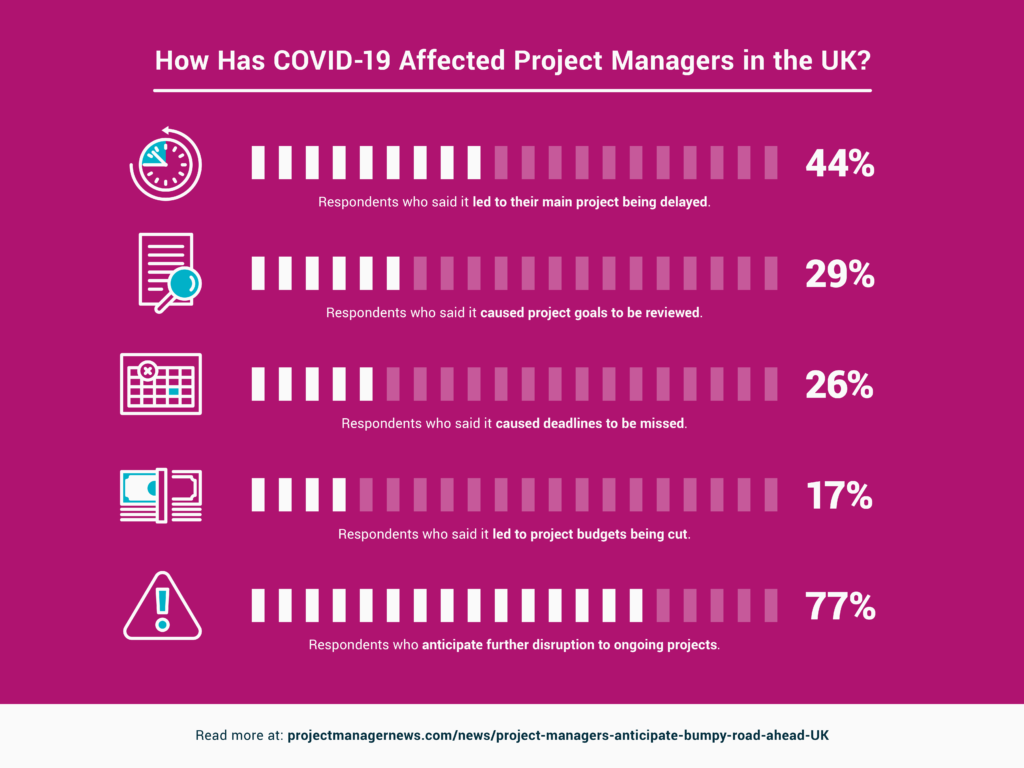 44 per cent of respondents say coronavirus has led to their main project being delayed
29 per cent of respondents say the pandemic has caused project goals to be reviewed
26 per cent of respondents say the pandemic has caused deadlines to be missed
17 per cent of respondents say the pandemic has led to project budgets being cut
77 per cent of respondents anticipate further disruption to projects they are working on as a result of coronavirus outbreak