SSOE Group is a global project delivery firm for architecture, engineering, and construction management with a mission to support clients by saving them time, trouble, and money. To live up to this mission, SSOE was looking for proactive ways to integrate Lean practices and drive performance by enhancing collaboration and optimizing department and project management workflows.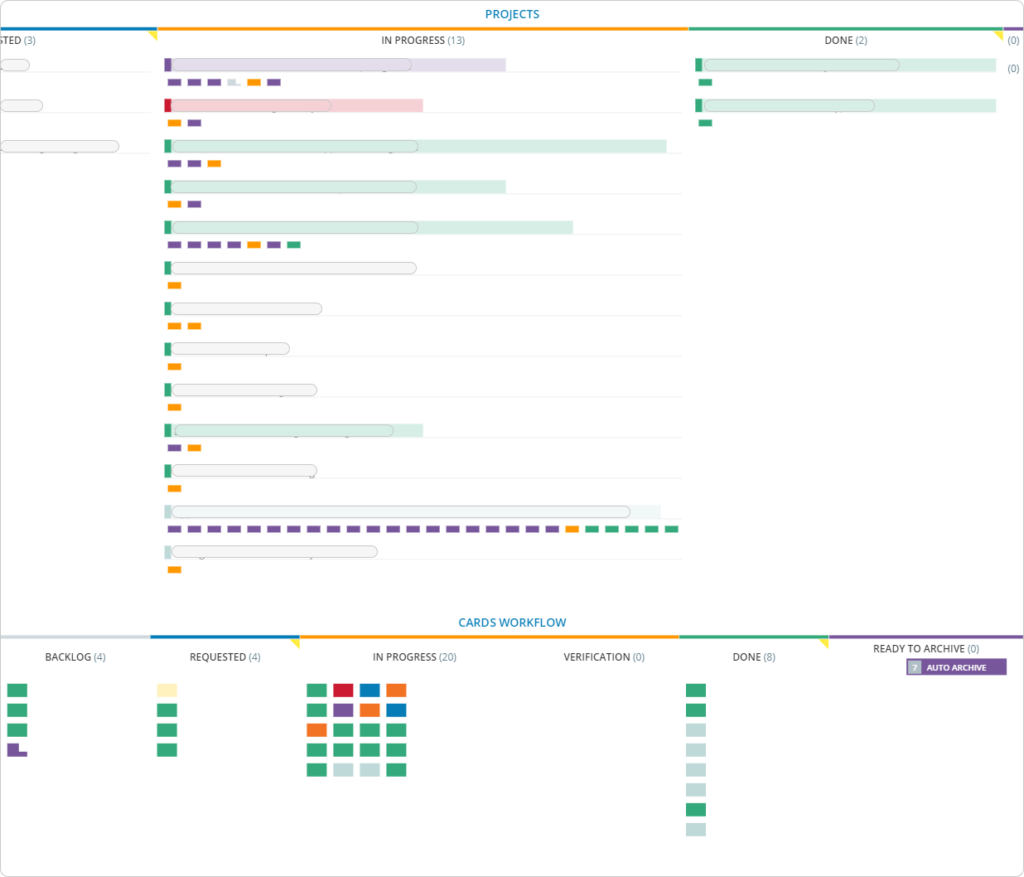 One of the main challenges SSOE faced on the path to global Lean Project Delivery was a lack of visibility across locations and team members. The physical distance and time zones between locations made it complicated for team members to have insight into what their colleagues were working on, the status of projects, and whether support was needed. This lack of visibility created gaps in communication and in some instances a duplication of efforts and waste of resources.
To increase visibility amongst teams and projects, SSOE sought the help of Kanbanize, a project management software based on Kanban methodology principles. As an agile method, Kanban enables real-time communication and full workload transparency with a visual representation of the state of ongoing projects at any given point in time. After SSOE identified Kanban as the best way to achieve Lean Project Delivery, implementing Kanbanize was embraced as a company-wide initiative.
Key Successes
Implementing the software across the company to 600+ users and training employees on the Kanban method has resulted in several tangible successes for SSOE, including:
Increased Operational Transparency
Kanbanize has helped SSOE visualize the flow of work across teams and throughout the company. Using digital Kanban boards to structure work processes and manage work items improved the coordination and scheduling between different work stages and amongst tasks owned within the management, engineering, design, and construction teams. With a holistic overview of the status of tasks and deliverables, SSOE achieved operational transparency across the entire project delivery cycle and was able to identify and remove project waste, including rework, duplication of efforts, task switching, etc.
Better Resource Allocation and Utilization
The visualization of tasks, priorities, projects, and deadlines allowed for greater staff flexibility and informed decision-making on how to best allocate resources. Visualizing ongoing work items, upcoming deliverables, and who has free capacity has encouraged incremental process improvements at SSOE when it comes to determining work, identifying bottlenecks, and allocating resources across various teams. For example, many SSOE employees have specialized skill sets given the technical nature of their work that cannot be executed by other members of the team. The visualization of work allowed SSOE to transfer non-specialized work items accordingly and assign tasks to employees that required their specific skill set.
Increased Team Collaboration
The visualization of work has also opened the door for more collaboration between team members. With visibility into what colleagues were working on, it has made it easier for others to offer help and guidance and share their experiences from similar situations. Combining Kanbanize with daily huddles, regular Kanban meetings, and feedback loops further promoted SSOE's collaborative culture with rituals framed around the Kanban work management environment.
Kanban as an Emerging Project Management Method
Applied at a company level, Kanbanize was successful in creating an infrastructure for cross-divisional project management and collaboration at SSOE. Through its various Kanban-style features, the software provided an environment and foundation that helped SSOE achieve Lean Project Delivery at scale. From strategy to execution, SSOE project managers now have complete transparency from the top-down, aiding in their ability to make informed decisions in real-time, increase operational efficiency, and meet target delivery and budgetary goals.
To learn more about how SSOE implemented Kanbanize across their organization, how they introduced Kanban methodology to employees, and their future plans for advanced Kanban adoption, read the full case study here.
Kanbanize Product Overview
What is Kanbanize?
Kanbanize is a visual, agile project management platform that allows its users to visualize projects, track progress, and optimize workflow efficiency in order to deliver value faster to the market. Built with scale in mind, Kanbanize combines Kanban-style features that aim to help companies achieve organizational transparency, increase workflow efficiency, and accelerate business agility.
Who is Kanbanize for?
Kanbanize is a tool for project and portfolio managers, embarking on Lean/Agile transformations. With the ability to bring transparency across the entire organization, Kanbanize helps managers improve team collaboration, facilitate status reporting, and align planning of big projects with their day-to-day execution.
The software has been successfully adopted by numerous knowledge work teams in various industries including:
Product Development
Engineering
IT Operations
Pharmaceutical
Manufacturing
Banking
Construction and Architecture, etc.
What Problems does Kanbanize Solve?
Inefficiencies in the Work Process & Project Delays
Bottlenecks and Wastes
Lack of High-Level Transparency
Unpredictable Project Delivery