AUSTIN, TX [Sep 14, 2021] – All project managers share the same goal: get the job done on time and on budget. Achieving this goal is the holy grail of project management, and making it happen while leading a team requires a complex skillset. Nobody understands this better than Kevin Torf, Managing Partner at T2 Tech Group and author of Getting the Job Done: Practical Advice and Real-World Anecdotes to Manage Successful P.R.O.J.E.C.T.S. (An Inc. Original, Sep 7, 2021).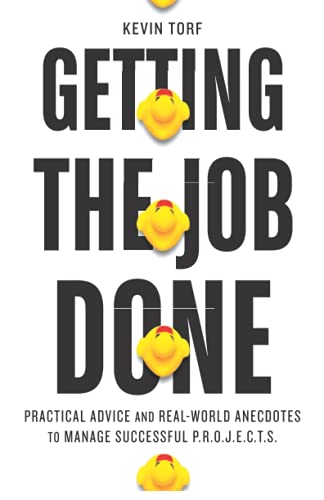 As part of the Inc. Original series written by leading entrepreneurs, Getting the Job Done describes the P.R.O.J.E.C.T.S. framework, which breaks down project management into eight core concepts. These concepts—planning, reflection, organization, juggling, empowerment, communication, teamwork, and standards—have been key to the T2 Group's success and made it a leader in healthcare IT consulting and project management. Getting the Job Done provides short, incisive tips and case studies to help project managers use each of the eight concepts to get their ducks in a row and get started.
"I have practiced these tips throughout my adult life," Torf said, "and I still reflect and make adjustments, as these tips suggest so that I can adapt to an ever-changing world, my current circumstances, my family, and my work. These tips have taught me to build a framework, that, in turn, has allowed me to achieve what I have intended in every facet of my life and in the projects I have been responsible for."
Getting the Job Done has received high praise from industry leaders. Commenting on the book, Andrei Soran, CEO of Pipeline Health called it "a must-read book to share with any project management team." Steve Garske, CIO of Children's Hospital LA, describes Torf's thinking as the "foundation for an effective methodology."
Pick up your copy of Getting the Job Done today and learn more about Kevin Torf and T2 Tech Group by visiting t2group.us. You can also view animated stories illustrating the book's key concepts on the T2 YouTube channel.
Keep on learning by checking this out: Nearly 90% Of Project Teams Are Hybrid According To New Report By ProjectManager