The Beekeeper communication platform recently announced the closing of their "Series Bee" funding round, which raised a total of $45 million.
What started out in 2012 as a student social network called Spocal has grown into a platform for business communication and internal communication with customers in over 130 countries.
With their recent influx of $45 million, the mission-driven company plans to further their ultimate goal: to connect the unconnected—the large portion of the workforce composed of non-desk workers. And this is no small goal, as there's an estimated 80% of the workforce who isn't connected at a conventional computer-laden desk. That's a total of 2 billion non-desk workers.
What is Beekeeper?
Developing a simple, intuitive mobile technology, Beekeeper has gained traction as a preferred operational communication platform for frontline employees.
The internal communication software offers features such as:
onboarding workflows for new team members
multi-language support with translations in employee's preferred language
seamless integration with existing tech stacks
communication campaign planning tools
automated communication flows
both private and group messaging
file sharing
Companies across industries (retail, hospitality, event management, manufacturing, logistics, transportation, construction, and others) are using the Beekeeper communication platform to schedule shifts, share onboarding and training resources, and measure the effectiveness of their company communications.
Seizing The Global Market
The most recent round of funding was co-led by Thayer Ventures and Swisscanto Invest, with participation from Atomico, Alpana Ventures, Edenred Capital Partners, Fyrfly, Hammer Team, High Sage Ventures, investiere, Keen Venture Partners, Samsung NEXT, Swiss Post, and Swisscom.
And what does Beekeeper software plan to do with the $45 million?
In a recent announcement of their Series B funding round, the company explained:
"This round will also allow us to continue to expand our team, both throughout Europe and the U.S., as we continue to develop our operational features and expand our already robust marketplace offerings.
Going forward, both our enterprise customers and frontline workers can expect to see Beekeeper continue to refine and perfect the internal communication platform they already know and love, as well as release new, innovative functionalities to complement our existing suite of operational features."
They further explained that they're looking forward to building out the existing operational capabilities, including their operational capabilities such as Scheduling and Documentation management features.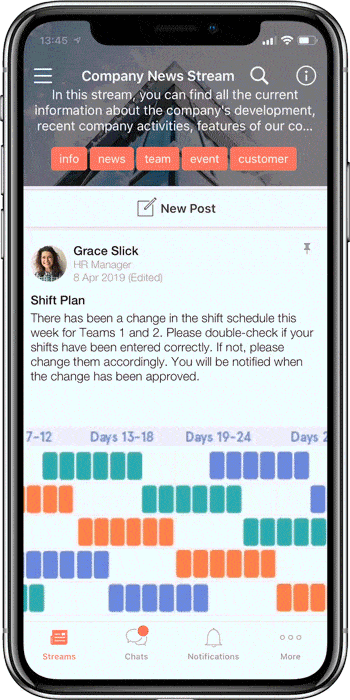 Learn More
Wonder how the Beekeeper company plans to connect the world's 2 billion non-desk workers?
Here's a video where Beekeeper breaks down the task of digitalizing the non-desk workforce: