Antonio Nieto-Rodriguez' new project management book shows what these three things have in common:
A mine rescue in Chile
a small church wedding in Australia
the construction of a new Berlin airport
Can you guess it?
They're all examples of the project economy.
It's a major future development of project management, one that every project manager should prepare for.
Antonio Nieto-Rodriguez, a world renowned project management thought leader, wrote the project management book, THE PROJECT REVOLUTION: How To Succeed In A Project Driven World to prepare readers for a world where more schools, governments, and organizations are turning to the project economy (and therefore project managers) to solve their problems.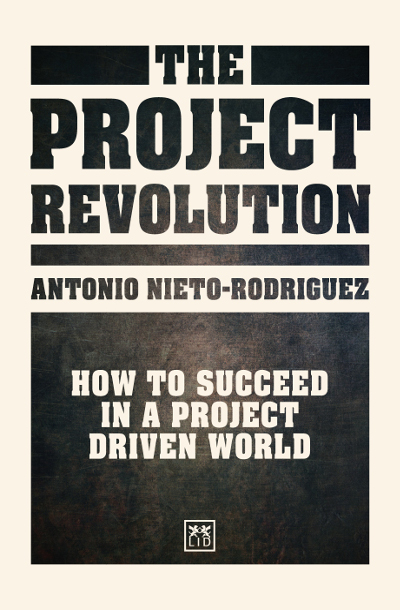 About the author: Nieto-Rodriguez writes some of the best project management books on the market. He also frequently contributes to the Harvard Business Review and CIO, where he writes about important project management trends and challenges. In 2017, Thinkers50 recognized his contribution to project management with the Ideas into Practice Award. He has published another project management book titled The Focused Organization.
When he speaks, you want to listen. Find out more about his book below.
Project Management Book Explains The Gig Economy vs The Project Economy
We used to live in a gig economy: short-term contracts with little stability and lots of last-minute scheduling. The freelancers were managed by either an in-house project manager or the Chief Technologies Officer, depending on the work the freelancers were hired for. As Nieto-Rodriguez observed,
"Management and management theory has always been focused on how to run and optimize (efficiency) the business best. Projects were an addition, but hardly ever a priority."
Signs of the Project Economy
The project economy has been one of the up and coming trends over the last year. Perhaps, while working as a project manager, you've seen some of the signs. For example:
The rise of new jobs and different fields of work.
Situations where an organization previously would've hired freelancers to deal with individual problems, but they're now restructuring their problems as projects and hiring a team to work on it.
Some Key Project Economy Stats
Nieto-Rodriguez sees the growing influence of automation and artificial intelligence as a major revolution in project management techniques, best practices, and working opportunities.
His prediction?
By 2025, "senior leaders and managers will spend at least 60% of their time selecting, prioritizing, and overseeing the execution of projects."
He's not the only one to envision such a future, either.
Not long ago, the Project Management Institute (PMI) published a report on what they call the "projectification of society," where the stated that "We are living in a project economy, which means that an increasing share of our gross national product and an increasing share of our time is spent financing and enacting projects in all kinds of industries."
To add further evidence to his claim, the London School of Economics also believes that the gig economy is giving way to the project economy. Their report by the Centre for Research on Self-Employment found that there are five times more "project" freelancers than "gig" freelancers, and that those project freelancers earn double that of their gigging counterparts.
What Does The Project Economy Mean For Project Managers?
For a project manager, this is a very exciting time. More projects mean more demand for project managers.
However, it can also be a moment for uncertainty. Project management is becoming more digitized. There are new project management tools to implement. There are new tools to learn, new workflows to develop, and challenges to overcome.
Nieto-Rodriguez has written his project management book to help guide PMs through these waters. He believes that good project management techniques are universal, and he explains his best practices in a simple, easy to understand manner.